American Everyman
by Scott Creighton
famous image from the "protests". Wealthy white couple with their brown "weekend nanny" in tow on their way to protest having to pay her a living wage.
The white upper middle class of Brazil are taking it to the streets after being prompted to do so by every corporatist media organization in the country. It's time to take a stand against the "corruption" of President Dilma Rousseff and have her (and more importantly, her political party the Workers' Party (PT) ) impeached. So said Brazil's lower house of congress last night when they voted to begin impeachment proceedings against the standing president of the country. It should be noted, the member of the lower house who led that proceeding is a political opponent of the president and is himself facing serious corruption charges.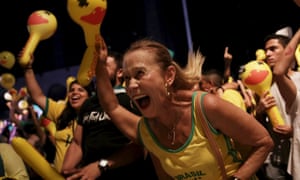 Yea! I'm rich! And we are taking the country BAAAAACK!!
The mostly white…
View original post 2,703 more words